From Japan to Penang Island, Malaysia
Those who have moved or moved for various purposes
Introducing the water situation of Penang Island.
The water supply situation in Malaysia
You can think of it as a level that affects travel and life.
Aim the Nomads Write a sentence and do a side job! !
Can I drink Malaysian tap water?
Should I buy water in Malaysia?
You may think that you cannot drink Malaysian tap water directly.
Malaysian locals also rent water servers.
Or use a water purifier filter
Should I avoid ice at restaurants and food stalls?
I, and elementary school children / infants
Has been drinking Hawker iced drinks for years
I have never had food poisoning or diarrhea.
I think it is based on personal judgment, but compared to neighboring countries like Vietnam and Thailand.
Malaysia Local Hawker is a beautiful image.

If even a drop of tap water enters your mouth, will you break your stomach?
There are times when you use tap water when brushing your teeth,
Never used as drinking water.
However, I don't think it can be so nervous.
Water supply situation in a condominium apartment in Malaysia
If you are staying in a condominium apartment type,
Sufficient care is required for tap water.
Compared to the capital Kuala Lumpur, Penang
The water is said to be clean, but you should still be careful.
In the case of an old condominium, due to deterioration of the water pipe
The inside of the tube is heavily rusted and the water is yellow and cloudyMay come out.
In such a case, even if you buy a white T-shirt or clothes,
In about half a year
I have experience with fading and yellowing.
Therefore, if you drink such water regularly, there is a risk of adverse effects on your body.
There is. .
Installation of water server
Throughout Malaysia, tap water is not generally suitable for drinking, even here on Penang Island.
So for most householdsDrinking water server Water Dispenser'
I think that there are many people who have installed.
My friends around me and my home are also using
Bio tops"
Become a Penang water server company.
If you are not good at English, you can apply here.
bio -top
Click here for the application form
Application form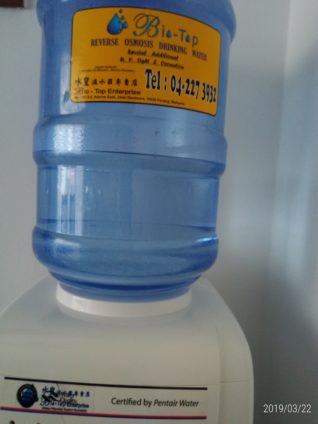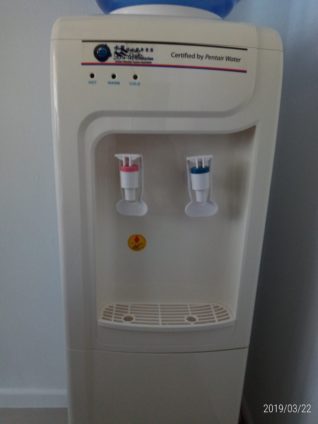 About the cost
The water dispenser server is free, but a deposit is required. ●

RM100 (2800 yen RM1 = 28 yen)


Rent paying.


* Because it is a deposit, RM100 will be refunded if there is no damage at the time of cancellation ● Water coupon purchase Water bottle coupon 60 amount
RM480(RM8 per 1 book)
Still morePayment is cash onlyIt becomes. Credit card payment is not possible.

The above will be the cost to pay only for the first time. RM100 RM480



Total RM580



About 16,240 yen If you have used up 60 bottles, you can purchase 20 bottles from the next.
What is the quality of biotop water?
Although it is not mineral water, it can be said that it can be useful for everyday drinking and cooking. Many Japanese, Korean, and local people around are also using it.
About application
You can also apply by phone.
In that case
"I saw the Japanese website "

I think that the story is quick if you say.
All applications over the phone will be in English.
English conversation on the phone is much more than normal conversation
The difficulty level is high.
If you are not good at English, you can apply here.
bio -top
Click here for the application form
Application form
042273932
Educational situation of your child
How to learn Japanese for children attending an international school !
Southeast Asia Where to study abroad Malaysia OR Philippines
What parents prepare to enter international
I'm a resident so I can teach ! About Penang International School
About MM2H
New application conditions for MM2H announced! 2019 year 3 month news
MM2H conditions become stricter
Beauty circumstances ~
Absolutely recommended locally popular massage shop in Penang Island
Child-friendly natural school sunscreen
Sunscreen to drink against stains and wrinkles
Does the stain disappear like an eraser? Cream is in Malaysia
</ pre